If you are headed to Sturgis, SD for the annual motorcycle rally or for any of the other events hosted by this small community you will no doubt be taking many photographs while you are there. There are many options to share the experience of your trip, but frequent visitors know what the most iconic and recognizable photos are. We have narrowed it down to the top three "must do" Sturgis photo opportunities.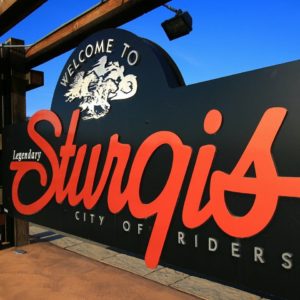 3. Official Sturgis Signs
On Lazelle Street (just east of I-90 exit 30), is a Welcome to Sturgis sign in the Sturgis Coffee Company parking lot. It is the perfect spot to snap a photo on your way toward any downtown festivities. The black and orange hues of the sign contrast the often clear azure skies of South Dakota. If you happen to come into Sturgis via Junction Ave (exit 32 off of I-90), there is another welcome sign, just like its partner across town. It is located on the north-east corner of Junction Ave and Anna Street, across from the Best Western Sturgis Inn.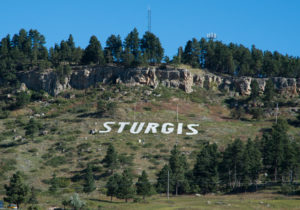 2. Sly Hill
Visible from anywhere in downtown Sturgis, north of Bear Butte Creek, the Sturgis Community Center, and Sturgis RV Park, the giant Sturgis sign on Sly Hill is redolent of a sign you might see in Hollywood. The concrete letters simply spelling out the word "Sturgis" leave no question you are in the City of Riders. Be sure to snap a few selfies with the easily seen letters in the background, and send it to your jealous friends who didn't make the trip.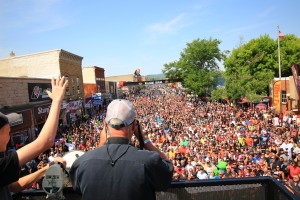 1. Main Street
As you wander down Main Street in Sturgis, you will quickly find that there are a multitude of opportunities for photos during any of the organized rallies. During the Sturgis Motorcycle Rally colorful characters abound, biker babes and body paint are the normal, and giant food portions are standard. If you are looking for the ultimate selfie, you will want to pay the fee to stand on the towers located on either end of Main Street, giving a bird's eye view of the hustle and bustle below.
You are certain to catch many more photos that reveal the unique playground, that is the Sturgis Motorcycle Rally, or Camaro Rally, or Mustang Rally. But if you really want to make your friends jealous, be sure to catch these three.
---
Get Visit Sturgis in your inbox: