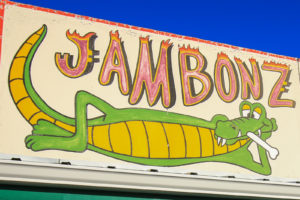 Sturgis, SD is not a stranger to worldly exposure and celebrity sightings, especially during the first week of August during one of the largest annual motorcycle gatherings of the year.  August 2016 was no exception, as the Travel Channel decided to reveal some Secret Eats in the town of Sturgis and surrounding area.
After stopping at a traveling BBQ pit for some of Sturgis' finest street meat, Adam Richman and crew headed to Jambonz Bar and Grill.  The fun feel of the bayou carries through the atmosphere and the menu at Jambonz, and is paired with a side of friendly mid-west service and hospitality.
Next stop for Adam and crew was the Deadwood Social Club.  While the town of Deadwood enjoyed some recent acclaim due to the HBO series by the same name, this particular focus was on the wild boar poppers (cherry peppers filled with cream cheese filling, and wrapped in wild boar bacon).
The crew spent a few more days roaming the Black Hills, including a stop to the town of Rapid City.  While there, they made sure to visit the Blind Lion, a speakeasy hidden in the basement of a popular downtown restaurant.
If you ever find yourself in the Black Hills, be sure to check out these stops on your trip and checking out some other delicious opportunities that the area has to offer.
The episode is scheduled to first air on February 1, 2017.  Check your local listings for times.